Gratis thuis bezorgd

2 jaar CBW garantie op meubelen

Betaling bij levering

Ruim 2500m2 showroom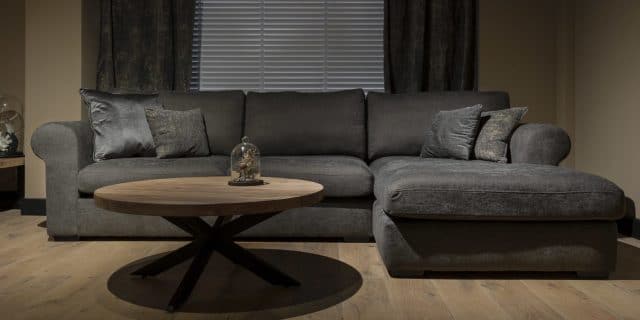 UrbanSofa Merlin
Merlin
Een echte topper uit onze Country & Lifestyle collectie. De Merlin heeft een tijdloos design en door zijn veelzijdigheid past deze heerlijke loungebank in ieder interieur. Zo kunnen de armleuningen bijvoorbeeld worden voorzien van chrome bronzen of zwarte nagels en kan de bies op de kussens naar wens in een contrasterende stof worden geleverd. Leverbaar in meer dan 200 stoffen, talloze opstellingen, maten en opties. Speciaal voor jou met de hand gemaakt in onze fabriek.
Lekker loungen
UrbanSofa is natuurlijk niet voor niets de maker van het lekkere loungen. Hoe mooi jouw nieuwe bank ook is, hij moet natuurlijk bovenal lekker zitten. Daarom hebben wij verschillende zitcomforts. Ga je voor heerlijk zacht, iets steviger of het ultieme comfort van de UrbanSofa Pock-IT seats? Kom langs en ervaar het zelf!
Persoonlijk voor jou
Jouw UrbanSofa stel je helemaal zelf samen. Welke opstelling, stof of zitcomfort je ook zoekt. Select de looks en onze ervaren meubelmakers gaan voor je aan de slag!
Verkrijgbaar in vele opstellingen, afmetingen!
Stel zelf je product samen! Bekijk hier alle mogelijkheden van 'Loungebank Merlin | Stof'
Sofa vanaf € 995,-
Loungebank vanaf € 1695,-
Hoekbank vanaf € 2295,-
---